This shop has been compensated by Collective Bias, Inc. and Conagra Brands. All opinions are mine alone. #reddiforfall #CollectiveBias
Hey party peeps! Fall has me all ready to pull out my cozy sweaters and just relax on the couch sipping on a hot cup of coffee. Yeah right! If you're like me, fall is the beginning of the holiday entertaining season and relaxing isn't exactly what happens around here. BUT…I do like to take shortcuts when I can and especially when hosting fall parties or hosting holiday dinners. I host my family for both Thanksgiving and Christmas dinners so lots of cooking goes on in my kitchen around the holidays. Not to mention the holiday parties and my son's birthday which is five days before Christmas. Yup…the holiday season is a BUSY one around here!
GIRLFRIEND TIP: Shave some time off your time in the kitchen and serve no-bake desserts so you can spend more time enjoying friends and family than spending hours in the kitchen making desserts. Are y'all with me?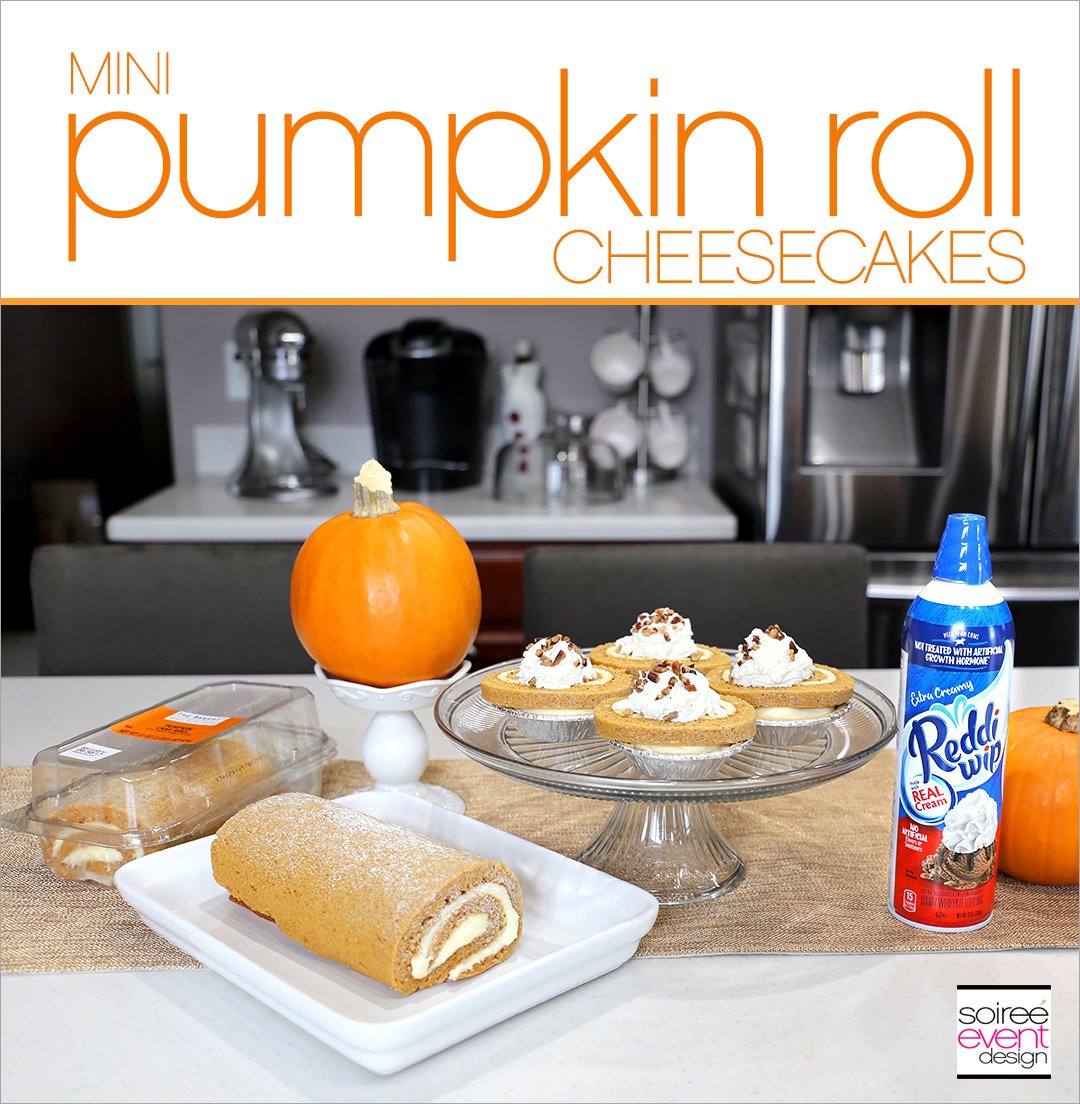 If you're looking for fall dessert ideas, check out more fall recipes HERE. Today I'm sharing one of my newest favorite fall dessert recipes — NO-BAKE MINI PUMPKIN ROLL CHEESECAKES! They are delicious and quick and easy to make in only a few steps. Let's get started.
HERE'S WHAT YOU NEED
– 1 can cold Reddi-wip® Extra Creamy
– 1 The Bakery at Walmart Pumpkin Cake Roll with Cream Cheese Filling
– 1 1/2 cups of pumpkin spice coffee creamer
– 1 packet of no-bake cheesecake mix
– chopped pecans (for garnish)
– 2 packages of mini graham cracker pie crust shells (they come 6/pack)
HERE'S HOW TO MAKE NO-BAKE MINI PUMPKIN ROLL CHEESECAKES
STEP 1: Make your pumpkin cheesecake mixture. Pour 1 1/2 cups of pumpkin spice coffee creamer and the packet of no-bake cheesecake mix into a mixing bowl.

Mix on medium for 3 minutes until the cheesecake mixture begins to get firmer.

STEP 2: Place the mini graham cracker pie crust shells on a tray.

Fill the graham cracker pie crust shells with the cheesecake mixture. Put them in the fridge for 1 hour.

STEP 3: When you are ready to serve, slice your pumpkin roll into 12 even slices.

Place one slice on top of each mini cheesecake.

STEP 4: Top them all with a dollop of Redd-wip.

Finish them off with a sprinkle of chopped pecans and serve right away.

GIRLFRIEND TIP: These need to be served right away. If you want, you could also put them out without the toppings and let the guests add their own Reddi-wip and chopped pecans themselves.
That's it! This recipe will make approximately 12 mini cheesecakes. They are delish and look amazing! They are the perfect sweet ending to a holiday dinner or just small enough to serve at dinner parties.
WANT MORE FALL RECIPES?
Need some ideas for easy-to-make fall recipes you can whip up for your upcoming fall celebrations? CLICK HERE for more fall recipe ideas! And, the next time you're in Walmart, pick up everything you'll need to make this yummy recipe including the Pumpin Roll that you'll find in the bakery case and Reddi-wip which is in the refrigerated section by the milk. You will love it!

Happy Fall Y'all!
Tonya
PIN FOR LATER!
FOLLOW ME ON PINTEREST FOR LOTS OF INSPIRATION!
CLICK HERE to check out my PINTEREST BOARD full of recipes, parties, home decor, DIY projects and more!
DON'T MISS A THING!
Be sure to SUBSCRIBE to my blog so you can get all my blog posts delivered right to your email's inbox so you won't miss a thing! Subscribing is easy! Just enter your email address in the above right corner of this page and be sure to confirm your email once you get our confirmation to your inbox! That's it! AND…you'll get a code for 10% off your next order in our shop. YUP…GOTTA LOVE THAT!
*****
– Recipe & Photography: Soiree Event Design